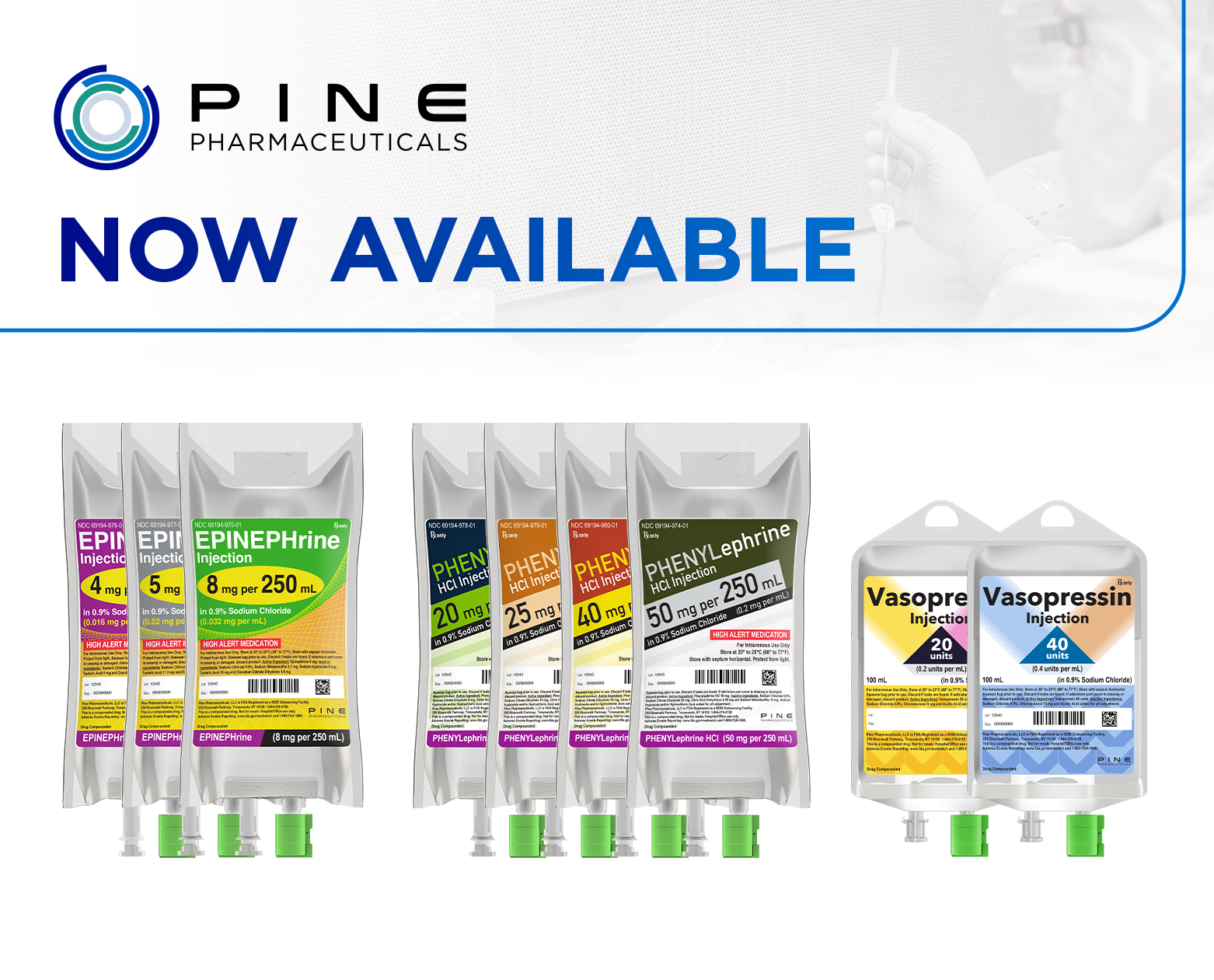 Tonawanda, NY, May 3, 2023 /PRNewswire/– Pine Pharmaceuticals, one of the nation's largest and most trusted FDA-registered 503B outsourcing facilities, today announced the successful integration of Athenex's 503B business, including the transfer of people, processes, and products. The move has allowed Pine Pharmaceuticals to expand its product offerings, including critical, life-saving medications such as phenylephrine, epinephrine, vasopressin, and diltiazem injections.
"These new products not only complement our existing portfolio but enable us to reduce drug shortages nationwide by helping hospitals maintain their supply of life-saving compounds," said Pine Pharmaceuticals owner Alfonse J. Muto, Pharm.D.  
Pine Pharmaceuticals' expanded product offerings were made possible by the recent expansion of its state-of-the-art facility in 2022. The 75,000-square-foot facility allows Pine Pharmaceuticals to produce and distribute a larger volume of medications with higher efficiency and quality.
In addition to the expanded facility, Pine Pharmaceuticals has integrated the Quality Control Lab capabilities from Athenex. This integration allows Pine Pharmaceuticals to maintain the highest standards of quality and safety in all of its products.
Over 50 jobs across various departments, including Production, Engineering, Warehousing, and Quality, were preserved as part of this transition, ensuring that the people of Athenex's 503B business continue to provide their expertise and experience to the industry. Pine Pharmaceuticals is committed to investing in their development and growth, recognizing their contributions as critical to the success of the business.
"The completion of this strategic partnership marks one of the many exciting growth opportunities for our company," said Muto. "We look forward to partnering with hospitals nationwide to provide the continuity of care their patients deserve." 
About Pine Pharmaceuticals LLC 
Pine Pharmaceuticals is an FDA-registered 503B outsourcing facility that specializes in preparing high-quality, ready-to-administer compounds and repackaged products. As a best-in-class partner, Pine Pharmaceuticals is committed to meeting the FDA's stringent cGMP requirements while supporting hospitals, surgery centers, and practices nationwide. For more information, please visit www.pinepharmaceuticals.com or call 844-218-4138 to learn more about our products and services.